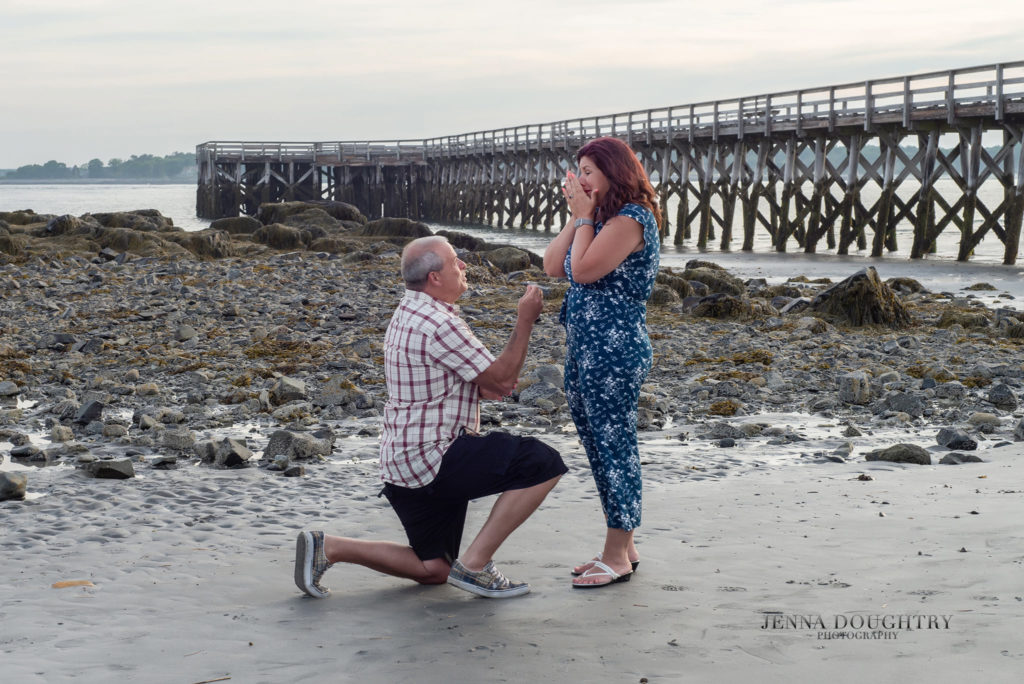 I had the honor of capturing this surprise wedding proposal at Fort Foster in Kittery, Maine! Well, she was surprised, the rest of us were in on it!
This took place at the end of their family portrait / high school senior portrait photography session. So much fun! Congratulations Misty and Frank! Wishing you many years of happiness together! Scroll down to read about how to best plan your surprise wedding proposal…
Tips to plan your surprise wedding proposal
Planning a surprise wedding proposal can be an incredibly nerve-wracking yet exciting experience. It's a moment you and your significant other will remember forever, so you want to make sure everything is perfect. If you're ready to take the plunge and propose, here are some tips on how to plan a surprise wedding proposal.
Hire me as your photographer to capture it all, forever!
Decide on the location. Choosing the perfect location is crucial to setting the right tone for your proposal. Think about places that hold special meaning to both you and your partner. It could be the spot where you had your first date or a scenic lookout that you've always wanted to visit together. Consider the time of day and lighting as well, as these factors can play a big role in creating the right ambiance. If you're not from this area I am happy to help you pick the perfect location.
Maybe Involve family and friends? If you're planning a surprise proposal, it can be a good idea to involve your family and friends. They can help you with the logistics of the proposal, such as setting up the location, arranging for music or decorations, and capturing the moment on camera. You can also involve them in the proposal itself, either by having them there in person or via video call.
Plan the details. The little details such as preparing a special meal or picnic, or arranging for a surprise activity after the proposal. Think about what your partner likes and what will make the moment extra special for them.
Practice your speech. The proposal speech is one of the most important parts of the proposal. Practice what you want to say and consider writing it down beforehand so that you don't forget anything important. Keep it personal, heartfelt, and sincere, and don't be afraid to let your emotions show.
Keep it a secret. One of the hardest parts of planning a surprise proposal is keeping it a secret. Make sure you have a solid plan in place to keep the proposal a surprise, whether it's by enlisting the help of family and friends or by sneaking around behind your partner's back. Be sure to communicate with everyone involved about the importance of keeping the proposal a secret until the big moment arrives.
Planning a surprise wedding proposal takes a lot of time and effort, but the end result is worth it. With these tips, you can plan a proposal that your partner will never forget. Just remember to keep it personal, sincere, and heartfelt, and you're sure to have a moment that you'll both treasure forever.
Click here to visit my website to inquire about hiring me to capture your proposal
Follow me on Facebook here